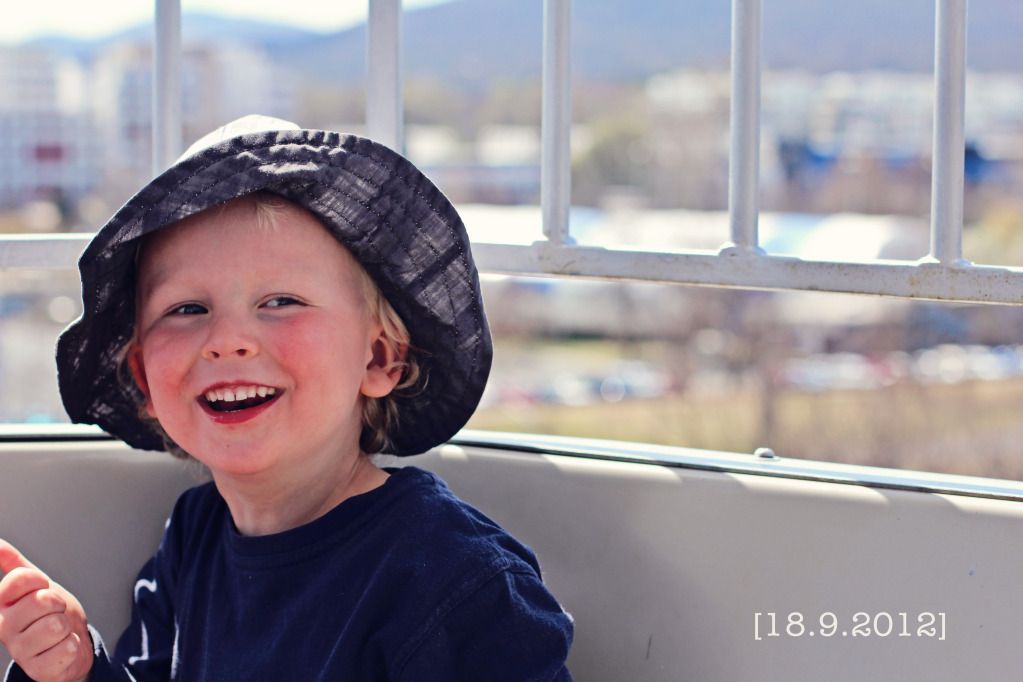 This morning we spent a few hours at Canberra's annual Spring Festival Floriade. Winter in Canberra is long and cold and when we finally move into Spring, Floriade is like a sweet reward for Canberrans. Sunshine (not guaranteed, but we did get it this morning.), colourful flowers, an abundance of activities for families and just a place to be outdoors without a coat and beanie. I love this time of year.
Again, Finn and Harper surprise me in what they are drawn to. We planned on visiting the farmyard petting zoo. I was pretty certain Harper would dig on the chance to pat some baby animals and despite reservations Finn would come along and end up enjoying it. Once we got to the gate though, Harper pulled my arm and declared "Don't want to go!" We left the line and instead they happily ran around on the grass outside the petting zoo and tried to talk to the swans gliding by on the lake. Then Finn asked if we could go on the ferris wheel. My cautious, anxious Finn asked to be in a wobbly cage suspended goodness knows how many metres above the ground. We had to have a big pep talk before buying tickets but Finn was adamant that he was ok with being up that high and that he wanted to do it. So we did it.
Finn was giddy with happiness up there. Harper, usually big on taking risks and adventure, held on oh-so-tightly to the bars and just stared at me.
Sometimes, if I am watching and listening, my kids surprise me and let me see a side of them that often gets hidden. They let me know that they are not just the stand out elements of their personality. They are so much more than that.